Bath's new MP, Wera Hobhouse recently held a "Bath Briefing" and invited local representatives to give their views on congestion and pollution in Bath.
Sadly there seemed not to be any experts in sustainable transport making presentations.  We do not have to re-invent the wheel, other places have built infrastructure and reduced car use, so why not use their experience to make transport safer and less damaging to health.  Well done Wera for highlighting pollution and congestion though.
Despite all the supportive words over many years and a Transport Strategy that prioritises walking, cycling and public transport (Active Travel), there does not seem to be Political will from any of the Parties on the council to grasp the problems and look for radical solutions.
In my view if councillors and the MP are determined to address the congestion and pollution problems in the city, outside experts, such as Gehl Associates or an equivalent experienced  company, should be commisioned to write proper cycling and walking strategies accompanied by action plans, if "Active  Travel" is to play a part.
Many people now accept that people riding bikes can have a positive affect on traffic congestion and air quality in Bath.
At long last Government seems to have accepted that poor air quality in cities claims lives prematurely.
As far back as the 1940s John Betjaman, the former poet laureate, who loved the city and took an interest in its problems, identified a future of congestion and pollution, as car ownership increased.  How right he was!  I can imagine that if he were still alive he would campaign for action to deal with the loss of lives to pollution and the damage caused to his beloved buildings, by vehicle emissions.
Until the 1960s riding bikes for getting to work/school and for leisure was the choice for many people. I can remember as late as the 1970s hundreds of workers on bikes from Stothert and Pitt Ltd taking over the lower Bristol Road, as they exited from the crane makers works across Victoria Bridge, at the end of the day.
In those days there were fewer cars on the roads and most people's first means of transport was to walk or ride a bicycle or catch a bus. From the 1970s into the 21st Century Bath and most of the UK has been in the grip of a "car culture."  It is only in recent years that many people have again accepted that riding bikes can contribute to movement around the city without causing pollution.  Still around 30% (a consistent number over some years) of people walk to work in Bath.
Surely addressing the "school run" should be an early priority.  Many parents drive their children to school despite today's children being our least active generation ever.  You have only to look at the congestion caused by the "school run", illustrated by the lack of traffic during the school holidays, to see the affect this has had on pollution and congestion.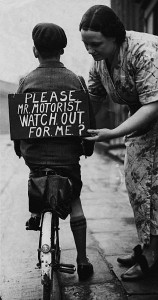 There is a vaste difference in the amount of traffic on the roads, when the private schools and the state schools, are on holiday.
Funding for "safe routes to school" is much reduced, yet there are many children who would like to ride their bikes to school and many parents who would let them if only the roads were safer.  There are many health and independence benefits for children walking and cycling to school.
We have seen some notable successes in the promotion of cycling here in the city, at a time when electric bikes are becoming very popular.  Bath is one of the few small cities in the UK to have hire bikes on the streets, which pay for themselves.  We have done well with establishing "off road" shared paths for people on foot and on bikes, such as the very successful Two Tunnels Greenway community project and its connection to the very well used Bath/Bristol railway path.
There are enforceable 20mph "signs only" limits in place across the city's residential streets and in the city centre.  There are many more cycle stands in the city centre, "Wheels for All Bath and West" is a project  here that helps everyone to cycle.
Part of the canal towpath has been resurfaced and a shared path established across fields from Bathampton to Batheaston, with a new bridge over the river, making it better for people on foot, on bikes and in wheelchairs to move between these two villages.
Shared paths have been established at Rainbow Wood, the Globe Straight and for part of Wellsway.  The path between Combe Down and the University of Bath has at last been completed.  Cycle contra flows for bikes are in place in Westgate Street,Wood Street, Widcombe,  and The Avenue and The Firs in Combe Down.  The annual sponsored Bike Bath Cycle weekend of varying distances, is in its seventh year, stages of the tour of Britain have begun and finished in Bath in recent years and an off-road cycle track, funded by British Cycling, has been built in Odd Down.
The city even hosted "Sky Ride" for a few years.  Even though these achievements have increased cycling greatly, there has been no corresponding increase in infrastructure on our roads.
Most people want to be able to ride the most direct way into work when they are commuting and the most direct route is usually on the roads. At present they have to compete for space with drivers of motor vehicles, so the only solution to this dangerous activity is to provide on road segregated cycle lanes, if we really want more commuters to cycle into and around the city.
Despite all of the "soft" improvements and an appetite by more local people to ride bikes, there is still a refusal by councillors and officers to reallocate road space from cars to bikes, in order to provide safe, segregated cycle lanes.  It seems that the council is more comfortable in providing for motorists, leaving people on foot and on bikes to share much smaller spaces.  Surely there is enough evidence in health and fitness benefits and improvements in air quality for a responsible council to build segregated cycle lanes on our roads.
Judging by the take up of the hire bikes and stands the "if you build it they will come" attitude to cycling infrastructure on the roads will be very successful.
I believe that the city needs experts with a proven track record to write an action plan for walking and cycling, but there are actions that can be taken now to restrict access to the city centre for private motor vehicles, giving more priority to people on foot, on bikes and in buses.
We often hear the excuse for doing nothing is that there is not a satisfactory bus service and no Park and Ride to the east.  Well we  are where we are with these two issues and we have to make the best of it.  However, there have been improvements in the bus service in recent years, such as "Real Time Information"at some bus stops, which tells people waiting for buses the length of time before the bus arrives.  There is also an App., which enables passengers to pay their fare by mobile phone.  The long needed extension to the bus lane out to the Batheaston roundabout has reduced delays for buses on London Road.  There are also other areas where bus lanes would make a difference to delays.
Despite these improvements fares are still expensive and buses are still delayed by the number of private vehicles on the roads.  P&Rs to the west, the south and the north are still not fully utilised by motorists.  Until more people use the buses and delays are minimised the service will not improve.
There are some actions that the Council can take now that will improve air quality and reduce congestion.
All on street car parking should be removed from main roads and the space released could be used for on road, segregated cycle lanes and residents parking.
A delivery policy, which limits the times that trucks can enter the city to deliver.  Often in other cities deliveries can only come in early or late in the day, therebye avoiding the delays to all traffic caused when two large vehicles travelling in different directions meet in streets such as George Street.  The Council used to share a scheme with Bristol, which saw goods delivered to a depot in Avonmouth and brought into the cities by a smaller, electric vehicles, h0wever this scheme has been discontinued.  Sadly because there was no limitations on deliveries, the incentive for companies to use the scheme was not there.
A Coach Management strategy would also avoid having coaches drop and pick up their passengers at Terrace Walk, which was only intended as a temporary measure until a strategy was in place.
Weight limit enforcement  This is the responsibility of the police, but many councils have requested Central Government to allow them to enforce local weight limits.  So far Govt has refused to devolve this power in England despite devolving to Welsh councils.  The Council could work with police to enforce.
Milsom Street could become buses only, with designated hours for deliveries and a rising bollard at the north end, to allow buses  and some other authorised vehicles through. The small car park off Broad Street could be used entirely for people with  blue badges.
Private motor vehicles could be banned from using Dorchester Street, with "no entry" signs at both ends.  Access to the railway station and Manvers Street car park can still be obtained via North Parade and Manvers Street or for the railway station only, at the drop off point in Widcombe.
Queen Square (the most beautiful roundabout in England at present) should have two or three sides closed to traffic.
Kingsmead Square should have vehicles banned.
Extend the bus gate at Northgate Street to Saracen Street and make this street two way.  This would enable the lower end of Broad Street to be for people on foot and on bikes and access at certain times for deliveries.
The last three bullet points could be done on a trial period, say for six months, to find out if they work and to iron out any problems.
There is no doubt that radical action needs to be taken if lives are to be saved by reducing pollution.  People's health can also be improved by making it easier and safer for "Active Travel" to be attractive.  If streets are made safe for people riding bikes many more will cycle, in particular children.  This can only be achieved by restricting use of the car in the city and freeing up road space for people riding bikes in protected, segregated cycle lanes.